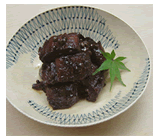 7,000 yen per pack (tax incl.)
Japanese unagi, or eel is simmered for hours in sweetened soy sauce and flavored with Japanese pepper harvested in Kurama, a mountain area in Kyoto. A great accompaniment with Japanese sake and beer. Also recommended for enjoying as a topping on plain rice after pouring on hot tea.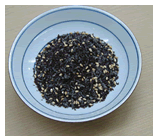 Small: 700 yen (tax incl.)
Large: 1,300 yen (tax incl.)

Fine salted sea kelp is cooked and minced then mixed with roasted sesame and powdered shiso, a Japanese herb. Good seasoning for ochazuke (rice with poured hot tea) and rice balls. A lovely package is suitable for a small gift for that special someone.