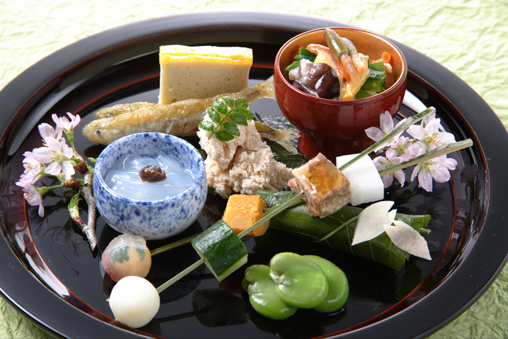 | | |
| --- | --- |
| Dinner | 17:00-22:00 (L.O. 19:30) |
*Menu items are changed daily.




雪 (Yuki)
About 10 dishes

14,300 yen (tax incl.)
月 (Tsuki)
About 10 dishes

19,800 yen (tax incl.)
花 (Hana)
About 12 dishes

24,200 yen (tax incl.)
おまかせ
(Omakase)
About 12 dishes using the best ingredients of the day

Current
price
*Service charge (10%) will be added to your bill.
*2nd floor(Private rooms)charge
 Small private room(2-4 seats):2,200 yen (tax incl.)
 Large private room(5-12 seats):3,300 yen (tax incl.)
*Major credit cards accepted.
- We can arrange courses for special occasions (birthday, wedding, memorial service, family gathering, etc.).
Feel free to inform us of your budget and preference.
- Please make a reservation in advance so that we can make sure to keep the best ingredients of the day for all customers.

TEL: 075-525-2160    FAX: 075-525-0984
Inquiry form


[Cancelling Your Reservation]
In case you need to cancel your reservation, please contact us by email at least 2 days before the date of your reservation.
Email: info@kyoto-mashita.com
A Cancellation fee will be applied: 50% of the payment due for cancellations made on the previous day and 100% on the day of the reservation.
In order to welcome every diner with our upmost consideration, we begin to prepare the dishes from early morning. We therefore sincerely ask our diners not to cancel your reservation on the day. Thank you very much for your kind understanding.


Enjoy seasonal blessings from the sea and mountains, such as sea breams and bamboo shoots.

Assortment of Spring Appetizers (Hassun)
Seasonal dishes celebrating season change from winter to spring.

Field mustard and sea urchin, with aromatic pepper leaf
Steamed lotus root dumpling and simmered sea bream, with Japanese butterbur served in a bowl
Simmered Spring bamboo shoots and octopus
Assorted Spring appetizers


Kyoto's summer specialty is hamo (conger eel). A combination of delicate conger eel and seasonal vegetables such as Kamo-nasu eggplant is a must-try for early summer.

Tango Boy's Celebration Season
Traditionally, May 5th is the celebration for boys in Japan. Families with a young boy display traditional amulets to dispel misfortune and to wish for the boy's healthy growth.

Hamo (conger eel) sushi
Boiled hamo and Japanese tiger prawn sashimi
Grilled eggplant and hamo served in a bowl
Simmered Kamo-nasu eggplant and Japanese tiger prawn


Savor the bounties of the autumn harvest

Colorful Autumn Leaves
Enjoy assorted appetizers featuring autumn delicacies.

Steamed salmon roe wrapped with straw
Appetizer of crab, Japanese yam and chrysanthemum
Savory egg tofu and matsutake mushroom served in a bowl
Grilled Spanish mackerel flavored with citrus


Warm your body and mind with Kyoto's winter specialties: Shogoin-kabura turnip, Kyo-ninjin carrot, Ebi-imo round yam, etc.

Celebration of the New Year
Start your New Year with delicious and auspicious special dishes.

Soba buckwheat noodles with duck (handmade on the day)
Simmered Shogoin-kabura turnip and conger
Simmered flatfish and turnip with thick broth
Homemade sweet made with Ebi-imo round yam
(sweets are handmade and changed monthly)